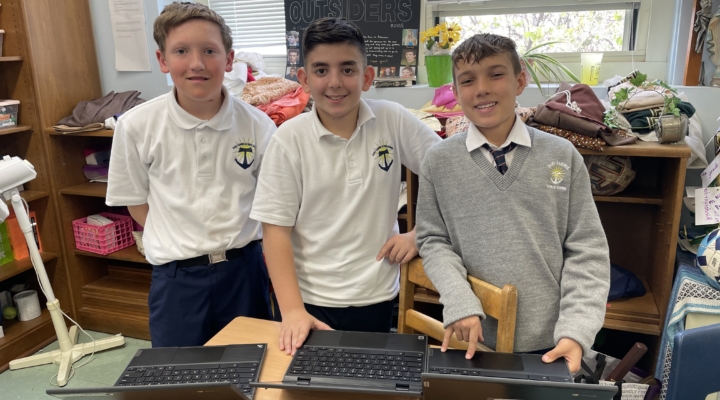 Academics
St. Casimir Catholic School seeks to develop within each student a curiosity, love of, and responsibility for learning. Through a strong academic program, student learning is facilitated from its most fundamental stages to the complex level of mature, intellectual thinking where students analyze, synthesize, and critique subject matter of increased difficulty. The school's educational process promotes the development of the total person by encouraging spiritual, intellectual, physical, social and emotional growth. A variety of faith experiences, curricular and co-curricular opportunities, and activities round out the total development of our students.

As a part of the Archdiocese of Baltimore the academics at our school incorporate the course of study developed and approved by the Division of Catholic Schools for the Archdiocese of Baltimore. Our Catholic faith is the focal point of our education process, and it permeates all curriculum areas.
Our Curriculum is developed by the school faculty under the leadership of the St. Casimir Catholic School. Basic subjects and time allotments are established in concert with the Archdiocesan Course of Studies and the regulations of the Maryland State Department of Education for non-public schools. Curriculum content is developed through faculty selection of appropriate grade level materials.
Learn More About Our Catholic School Academics Program
Curriculum: The Archdiocese of Baltimore Curriculum is designed to prepare students to be Catholic, College and Career Ready. Each course of study fosters students' Catholic identity, shaping them to be models of Christian living for others. Learn more by visiting our curriculum page.

Early Education: The underlying instructional strategy in early education throughout preschool is the use of organized and free-play activities that are intended to provide opportunities for the child to interact, explore and relate successfully in his/her environment. Learn more about the curriculum by visiting our preschool page.

Kindergarten: St. Casimir Catholic School utilizes a variety of strategies and projects to teach the academic subjects in kindergarten. To learn more please visit our kindergarten page.

Elementary School: St. Casimir Catholic School utilizes a variety of strategies and projects to teach the academic subjects in kindergarten. To learn more please visit our Elementary School page.

Middle School: Students in grades 6th–8th learn in a departmentalized setting taught by teachers who specialize in particular subject areas. A cross-curricula team approach is used in our middle school program. To learn more please visit our Middle School Page.

Student Performance: St. Casimir Catholic School students excel in our academically rigorous environment, and most recently was recognized as the #1 school in the Archdiocese of Baltimore for test score growth. Learn more by visiting our student performance page.

Technology: Technology in the classrooms helps our students to become more ready every day for future discoveries and advances we have yet envisioned. To learn more about the technology in the classroom please visit the technology page.

Academic Enrichment: Students at St. Casimir Catholic School have access to a variety of programs and resources to help them in their overall growth. To explore all of the resources available please visit our academic enrichment page.

Student Services: St. Casimir Catholic School is a place that recognizes children as unique individuals and encourages all students to realize their God-given gifts and talent, which is why we have a variety of student services available. Learn more by reading our student services page.

Before & After School Program: Open for currently enrolled students the before and after school programs help make child care easy and seamless for our busy working parents. Learn more about the before & after school programs.