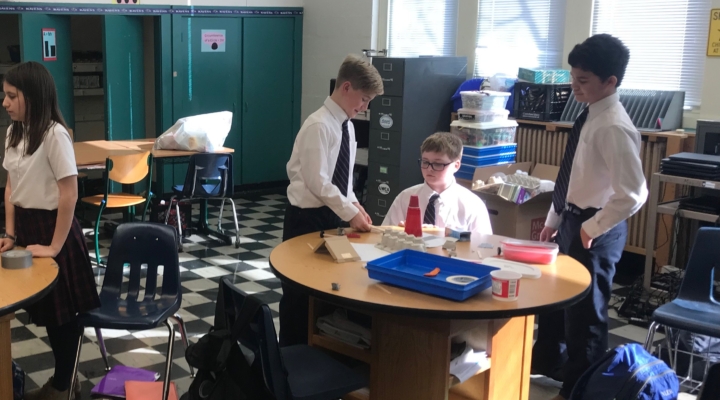 STEM: A Year in Review
Our teachers and students have worked hard and had much fun participating in our school's STEM program this year.
Primary Grades
Primary classes built and tested catapults, built and demonstrated Morse Code on NASA light signaling devices to be used on the moon where there is no sound, identified Ocean City's erosion remediation dredging operation, then built and tested beach erosion and remedies models, and studied mining in the Great Lakes region followed by experimenting with ways to extract materials from "earth" using magnets.
Intermediate Grades
Intermediate teams created Red Cross emergency air drop packaging to protect an egg and tested it by dropping models from our second-story roof, built and tested shoe box electrified houses with lights and doorbells, participated in and wrote about a walkabout activity to discover a typical journey of a water molecule illustrating the expanded water cycle. Intermediate teams finished the year by exploring ways to generate electricity including building wind turbine models that can produce electricity.
Middle School
Our middle school built NASA moon track foundations and prepared design proposals for NASA, built/gathered test data for their balloon-powered cars, and dissected/analyzed regurgitated owl pellets to determine species of prey and other organisms needed to support a population of 1000 barn owls (species of concern in New Jersey). Teams finished the year by building/testing wooden structures to withstand a shake table earthquake (grades 6 and 7) and building/testing roller coasters (grade 8).
Special Programs
Grades 3, 5, and 7 participated in Johns Hopkins University's BioEyes program. Each level mated and raised Zebrafish using high-powered microscopes to track larval development through a one-week period. We were able to see the heart beat and watch blood flow through the transparent fish body. We hope to make this an annual event.
This spring Ms. Wright worked with master gardeners to plant a pollinator garden in the schoolyard. Next year she will lead our students to communicate with a sister school in Mexico to trade information about our schools and our efforts to increase our Monarch butterfly population. Students will also track and report sightings on a citizen scientist program on the internet.
On Our Way to Certification
In October, teachers attended an environmental science workshop to learn how to adapt DNR project manuals to write STEM unit plans. This spring, each teacher completed a unit plan based on a DNR manual. Teachers will facilitate these plans in the fall of 2019.
During winter, each level met to compose STEM units based on STEAMTRAX STEM kits. These units were facilitated all K-8 teachers this spring.
Throughout the year, Ms. Hofmann, our STEM coordinator visited each K-8 classroom on a rotational basis to facilitate units and train teachers to use STEM education methods on their own.
We will continue to develop our program in the coming years. Next year we will work with a representative from Notre Dame University of Maryland to satisfy Archdiocesan STEM program requirements. These efforts will help kick off our ultimate goal to become an official STEM school certified by AdvancEd.